Hire the site for a day from as little as £18.00 per person 7 days a week.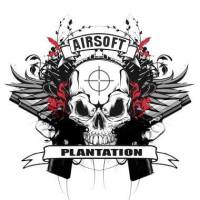 Includes.
first aid and fire Marshal.
Full access to the whole site.
Planned and Themed games to choose from.
Use of all site facility.
Use of all site props.
Battery charging.
Site radios.
Chronos.
Car park attendant.
Social media advertising (optional).
Private game day poster on web site(optional).
Team photos.
Full day 08:00-17:00 (night time available call for details).

Minimum hire is 20 players at £22.00 per person or minimum hire fee of £440.00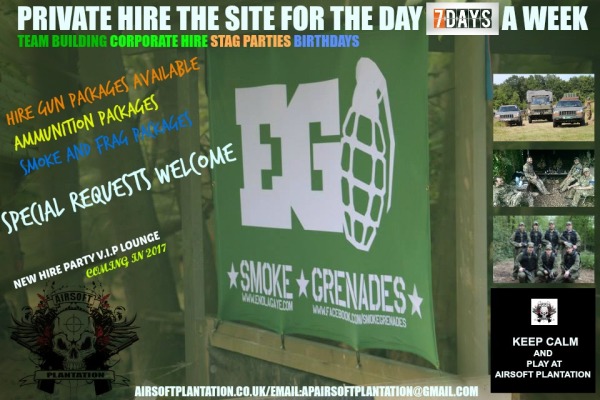 extras

Burger van  £POA

Catering for all your needs.

serving breakfast and lunch teas and coffees to all your players all day long.
players will get a full cooked breakfast roll of their choosing as well as a soft drink and as many teas and coffees as they like they will also be severed a hot lunch of there choosing from the chefs menu this is normally a quarter pounder or large hot dog and even a selection of chicken sandwiches the players will also get lunch time treats soft drink and teas and coffee.
snacks and soft drinks out side of the breakfast and lunch hour are paid for separately.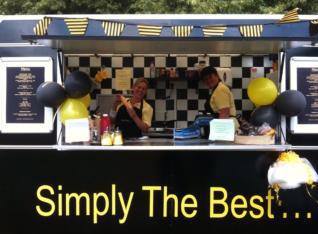 Hire gun packages from £30.00 per person.
Includes;
hire gun ak/sigg/M4
1 x bag/bottle of top quality bbs.
full face protection.


Hire gun extras.
2800 bbs - £10.00
grenades and smoke from £2.50
extra magazine - £5.00
gun only £25.00


vehicles and drivers from £50.00
2 x jeeps with drivers - £50.00
bedford military troop carrier - £50.00
2 x jeeps plus bedford - £85.00

the A.P bus - £50.00
quad bike and trailer for hauling gear with rider - £35.00
helicopters - p.o.a
tanks tracked and specialized military vehicles - p.o.a
​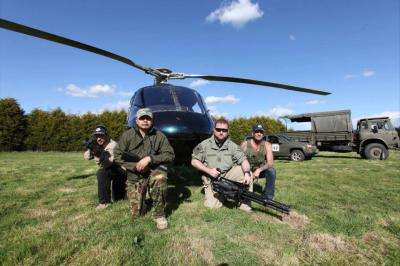 ​
pyro enhancements.
In game enhancements to bring the realism to life.
Grand finally game day end ex - £20.00
Planned in game smoke grenades and mortars - £30.00
Game enhancements - £30.00
Multiple game enhancements including all the above and multiple end game grand finally £100.00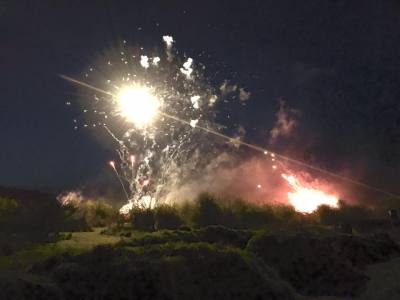 stag and corporate party's from £22.00pp

party's start from £22.00pp
we can tailor the day to suit your needs with in game enhancements and team building objectives.
all options listed are available on these events.

Extra marshals.
Extra marshal for large parties to assist in multiple objective and themed game scenarios where they games require extra marshaling - £50.00


Game sites and airsoft shops.
To arrange special events please contact the team directly for further information. 07534636289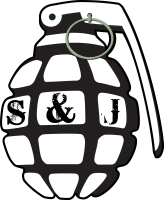 HIRE THE WHOLE SITE FOR THE DAY
FOR MORE INFORMATION CONTACT A.P

VIA TELEPHONE 07771556395 / 07534636289

OR SEND US AN EMAIL: APAIRSOFTPLANTATION@GMAIL.COM